Best Family Tracking Apps For Both Android & IOS In 2022 With the help of family tracking apps and monitoring tools, technology enables us all to keep our families safe.
The top apps for monitoring your kids' online activity have already been covered in our previous articles. We will now focus more on ensuring the safety of your family in the real world. The world is still a dangerous place, despite the fact that research shows a decline in crime and violence, and technology is here to help where it can.
We'll discuss the functionality and features of the top 15 family tracking apps for Android and iOS in 2022 that you should download. The majority of them let you track your phone's location for free, and they are all easy to use.
It is imperative to ensure the safety of each and every one of our families, especially given their dispersion. It's fairly easy and certain Android and iOS apps have made it possible to track our loved ones and know their whereabouts in real-time. For instance, let's imagine you're a parent and you'll like to know the whereabouts of your kids whenever they're far from you.
On your Android or iOS smartphone, as well as the devices of your friends and family, you must install the Family Tracker app. There are several of these apps available, you'll be able to access their location on your own Android device while connected.
15 Best Family Tracking Apps For Both Android & IOS In 2022
You should be aware of what features to look for before sharing your data and spending money on family safety before we discuss the best tracking apps for family and friends. Real-time tracking is obtainable, therefore this is essentially the core or fundamental functionality of tracking apps, and it goes without saying that the app won't provide all of these features for free.
How does a Family Tracker App work?
Family locator applications locate another phone by using a virtual map. They have GPS technology and a straightforward user interface. With the use of this technology, people may find their way around, get speed alerts and notifications, and locate their family members. Both iOS and Android mobile devices can use these apps. Simply make sure your phone has GPS functionality and is turned on when tracking is necessary.
To enable tracking, just install it on your device, sign up, and then do the same for the devices in your household.
Features You Should Look out For with Family Tracker App Work
1. Geofences.
This is an essential function if you wish to watch over your kids. You may use the feature to establish virtual fences so that you are alerted when your child leaves the house, goes to school, goes to a sleepover, or even when they arrive at specific locations. If kids go into risky locations, it also acts as a safety measure.
2. The Panic Button
This is a necessary function that is referred to as an SOS in some apps. A loved one should have an easy-to-access button to press if they need your quick attention.
3. History of the Location
It is, as its name suggests, a tool that lets you keep tabs on the whereabouts of your loved ones.
4. A battery
You can learn why they aren't answering your call by using several apps that show the phone's current battery level.
5. Multi-Platform.
Not a feature for a function, but always pick a monitoring app that runs on a variety of devices.
If your chosen app provides additional features, like in-app chat, GDPR compliance, checking-in, or even speed alerts, it would be wonderful to have them; if not, it won't be a major concern.
The benefit of social monitoring is added. A significant positive and a sign of a premium membership is if your selected app offers social monitoring, screen limits, and internet activity checks.
15 Best Family Tracking Apps for Android And iOS In 2022
You can use these applications, which function like locators but also include maps, to find other phones on the map. These phones could be those belonging to your partner, children, or other family members.
One of the safety precautions to take while travelling to a crowded area or knowing your family will be separated from you is to use apps like these. So long as you're all connected on the same location-based app, you can quickly find your way back to them. To help you find a phone, you will have access to real-time maps and a compass navigation system. Here are the best tracking applications for androids and iOS: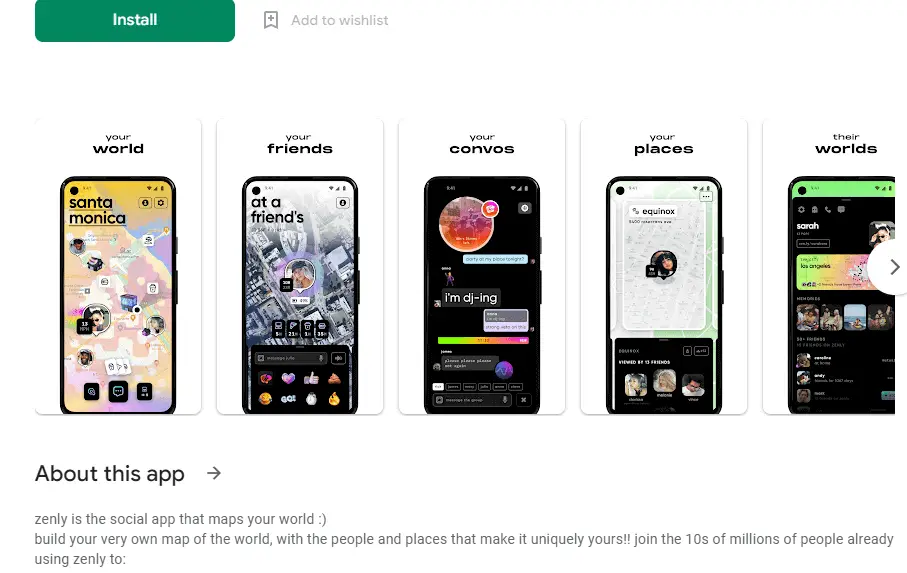 Zenly is by far the most effective family tracking app. For iOS and Android, it is a free real-time location monitoring app.
Both platforms can now use Zenly to enjoy all the advantages of family location sharing, including live GPS locations, messaging, stealth mode, and Covid-19 stats. The software shows the battery life of your family's or friends' phones, which is helpful for figuring out why one side isn't responding to texts or calls from the other.
You can opt to entirely hide, show the city name, or disclose your exact location; the privacy settings are simple.
Zenly is the least obtrusive and in-control location-sharing app I've ever used, despite running in the background.
Again, anyone with an iOS or Android device can use Zenly, a free family locator app.
2. GeoZilla
GeoZilla records each transaction. You may either attach their ounce-weight GPS tracking gadget to your child's bag, a pet's collar, or the dashboard of your car, or you can use their tracking software to find family and friends (with their consent, of course!)
Movement tracking is the main focus of technology, whether it be through hardware or software. Yes, there is a price to pay. The $59.99 price includes the tracker, USB cord, lanyard, eSIM, and rechargeable batteries.
After the first seven days, you must pay to continue using the tracking app's features, which include a 14-day location history, geofencing alerts, real-time location updates, and stolen phone monitoring.
The software also sends alarms when it notices a car accident and offers information on driving behaviours including excessive speeding, using a phone while driving, narrow misses, and aggressive driving.
GeoZilla offers activity monitoring for your fitness gadgets (also a wonderful way to keep an eye on your heart rate), but they are currently developing their technology and cannot make any guarantees.
With a 30-day money-back guarantee, Geozilla is a paid tracking solution that can be used with both iOS and Android devices. Just make sure it stays valid if you purchase their IoT solution.
Mamabear
Another family tracking software, Mama Bear, lets parents keep tabs on their kids' whereabouts and receive messages from them.
You may monitor social media and driving/riding behaviours using Mama Bear, an app that also serves as a monitoring tool. You may set up the app to alert you if your child starts to speed or starts texting while operating a motor vehicle.
For parents that need to know everything about their child and what they are doing, this is the greatest family tracking app. Mama Bear is free, however premium subscriptions starting at $0.99/month are required to access other features like "no adverts" and "previous week of daily location" as well as a number of other alternatives for social media monitoring.
With all of its features and bells, Mama Bear is a fantastic parenting app. It's also accessible on iOS and Android smartphones.
4. Glympse
Glympse is yet another family tracking solution.
All of the common features are present in the app, including temporary sharing and real-time location monitoring and geofencing.
Although specific to monitoring apps, this transient sharing feature is not unknown. To give just two examples, this is typical when sharing Google Maps and while using WhatsApp live location. However, it essentially functions in a number of use situations, such as asking a coworker to email you their ETA for a meeting or informing friends about your ETA for a performance, home, or recital.
So a lot of cases are covered by this straightforward, non-signup tracking app solution, right?
The software serves as a commercial solution because to its invasion of sophisticated yet straightforward technology. This app has the capacity to undermine WhatsApp or any other well-liked encrypted messaging service in your area.
On both iOS and Android, Glympse is free to download.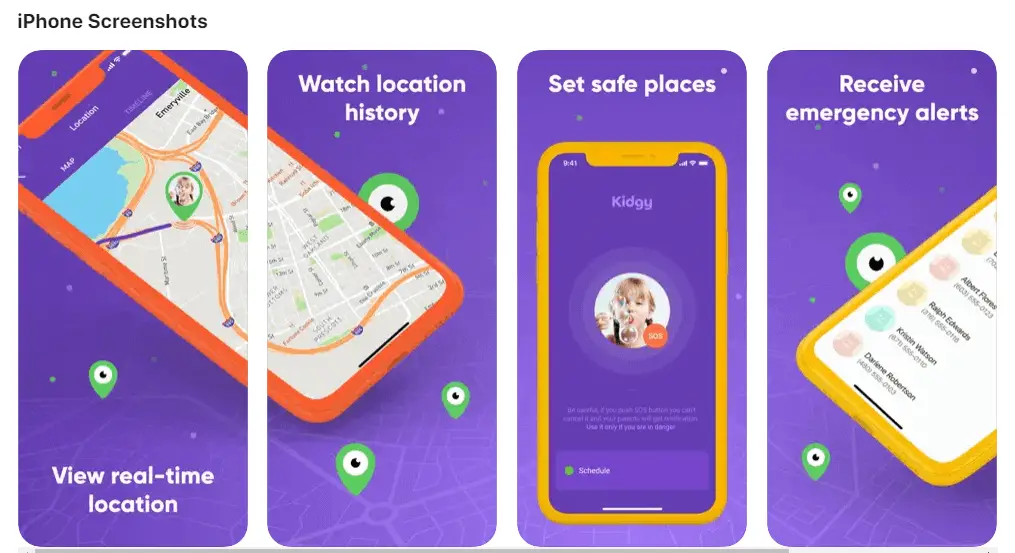 Another great family tracking tool is Kidgy, which enables parents to keep an eye on their kids from a distance and designate no-go areas on a digital map to ensure their physical safety.
When a child or user presses the panic button on the app, the parent is immediately informed of the child's precise position. If that weren't enough, the software can translate all online activities for a parent and serves as a very trustworthy child surveillance app.
Kidgy is the best family tracking app and also a great online monitoring programme as a result. To keep their kids safe online from risks including child sexting, adult content, and cyberbullying, parents can keep an eye on websites and social media.
For a small monthly price of $9.99, Kidgy, which is accessible on both iOS and Android devices, offers an amazing value for your child's safety by offering an online monitoring system for calls, text messages, applications, contacts, and more.
Kidgy provides free task management, geofencing, tracking, and panic buttons.
6. AllTracker
AllTracker has been around for a while, despite the fact that they are rarely discussed. They don't have a tracking option for iOS devices, which is unfortunate, but the Android versions seem to be pretty solid and reliable.
The tracking solution offered by AllTracker is comprehensive. From tracking of the device to calls, texts, images, calendars, contacts, screen mirroring, social media (including Skype and emails), audios, movies, and more. Apple devices cannot utilise the app because iOS restricts access to certain types of data.
For those working in the freight and transportation sectors, we think AllTracker is a great monitoring tool. It seems like a smart idea to keep an eye on employers in this anticipated company industry.
Although there is a monthly fee starting at $4, the free or basic edition gives you enough access to track down the family. Battery life, WiFi connectivity, call status, and, of course, geolocation are all features available in the free edition. On their pricing page, you can find the comparison.
Once more, AllTracker is only accessible on Android-powered devices.
Due to its accessibility on Windows Phones and capability to track basic phones as well (you know… non-smartphones? ), Life360 used to be one of the best and most well-known apps. However, as a result of recent technological developments, the software has grown clunky, weighty, and laggy. We only highlighted them in the hopes that they would reclaim their former fame. If not, they will be taken off our list after a few months if we find out they are just sitting on their laurels.
An iOS and Android software called Life360 allows you to keep tabs on your family.
This family tracker, like Zenly, tracks your whereabouts and offers in-app communications in addition to location tracking.
You may create and manage a variety of circles using Life360. This is a function that is frequently referred to as groups. If you're in a group, the other participants can hear where you are and what you're saying.
The app provides free plans which accepts, geofencing, location history, crash detection, and battery level. Choose their "Driver Protect" option if you want a more complete experience. An additional crash report, roadside assistance, and emergency dispatch are all included for a monthly fee of $7.99. All of these gimmicks are regrettably only accessible in the US.
8. FamiSafe
First on our list of rcommendations is Famisafe. One of the greatest free family tracker applications available for iOS and Android. With a wealth of features and capabilities to help you keep tabs on your family, it was also awarded Wondershare.com's best reliable parental control tool. You can use the Famisafe Parental Control App to keep tabs on your busy family without bothering them all day long as long as your phone has GPS. To make sure that your child showed up on time for morning dance practise, you may quickly locate them using your phone or office computer.
Real-time location monitoring and geo-fencing are employed by this app. You may create a safe zone, monitor their whereabouts with a street address and landmark, and get instant alerts when the youngster departs or enters the Geo-fence. This app is excellent for monitoring and safeguarding children. This software is password-protected as well, allowing only parents and other adult caregivers to view where their children are. The features that the majority of parent desire are present in this parental control app.
Additionally, the screen time management function enables parents to restrict their kids' phone use. This software is perfect for users because to the adjustable settings and flexible remote control. A one-year licence for five devices and a three-day free trial of Famisafe are included. Additionally, it works with Android and Windows.
A Reliable and Useful Parental Control App Get the app from the iOS App Store or Google Play.
9. Sygic Family Locator
Our third suggested free family location tracking software is Sygic. Think of Sygic Family Locator as a creative fix. It enables real-time location tracking and communication with your children. Both iOS and Android users can access it. Get the app from the iOS App Store or Google Play.
Foursquare Swarm
You may follow your kids' whereabouts using the straightforward UI of Foursquare Swarm. It makes use of a system resembling Foursquare's daily social media website. A pin identifying your location will be left behind when you check in at a site. Your family members might do this if they have attained various degrees of values.
A statistics reporting mechanism built into the application provides you with more frequent data on where individuals go. This can be used to monitor the actions of other family members. The software is a must-have location tracker for families because it also offers information on the different types of locales. Get the app from the iOS App Store or Google Play.
11. FamiGuard
FamiGuard is the top free family tracking app for Android users, according to users. A statistics reporting mechanism built into the application provides you with more frequent data on where individuals go. This can be used to maintain tabs on household members' actions, such as who frequents which places the most.
Additionally, the software offers details on the kinds of sites needed for a family location tracker app. The geofence can also be used to physically enclose a spot on a map. When the target device enters and exits the geofence, a notification is sent to your phone. The software also includes capabilities for screen time management, site filtering, managing applications, and monitoring online activities. Get the application from Google Play.
12. Safe 365
Many people pick Safe 365 because it is easier to use than other free family tracker apps. The gadget may exchange trip routes and energy levels in addition to sharing a specific position in real-time.
It makes it clear if the individual being followed has a low battery so the user may infer their status and take appropriate action. A panic button will be engaged in an emergency, broadcasting the location and information of the situation so that help can be sent. Download the app from the iOS App Store or Google Play.
Sprint Family Locator
Users of the free location-tracking app Sprint Family Locator can monitor up to four devices concurrently. The fact that the person you want to watch doesn't have to install any apps or software on their mobile device is the app's most important advantage. Using the requested capability, messages can be sent to the target phones.
With Sprint Family Locator, you can also keep track of a phone's past whereabouts and receive regular updates on where it is right now.
The notifications you get contain a map pin and a detailed location address. You can then check on your kids to make sure they got to school safely. Get the application from Google Play.
14. GPSWOX Family Locator
There are many security measures in this free family tracker software to allay any concerns. You won't need to worry if your child or spouse isn't in touch since GPSWOX Family Locator will alert you when a family member's battery is low and give you information about their most recent whereabouts. You can also configure alerts to inform you when team members reach a particular spot.
Alarms can be programmed to track the group's younger and less experienced drivers' average speeds. You can also see a member's 30-day location history on the app to find out exactly where they went during that time. While this app shares many of the same advantages as the other ones on this list, it also has some additional safety features. Download and Install it by going to Google Play.
Verizon Family Locator
Family Locator from Verizon is a free tracker software with safety features and directions to family members' current locations. Knowing where your family members are at any given time and how to get there fast if necessary is made possible by a top-down map that includes precise turn-by-turn directions. An average speed calculator is also included in the programme to assist in monitoring newly licenced teens. It is an expensive app that costs $9.99 per month after a one-month free trial, but that plan covers up to ten phones. Additionally, the app is only accessible through Verizon's website rather than the Apple App Store or Google Play, which is the challenge we have here.
Questions and Answers About Family Locator Apps
The following are some of the most typical queries customers have regarding the family tracking app.
Do I need to buy and install the app on each phone I want to track?
Every phone that will be tracked has to have the app loaded. You do not have to buy it for each phone if you are installing it on those of your family members. Only one purchase is necessary per Android or iOS platform in order to install it on all devices.
Do the people I invite need to have an account already?
Both ways are possible. Family members with and without accounts for the family locator app can both be added.
What is the significance of the circle around the location?
The circle that surrounds each place on the parent's smartphone denotes the precision in metres. The circle's diameter is decreased by the location's accuracy. An accuracy of 300 metres or more is regarded as low quality in the child's mobile device.
Is the family locator app compatible with mobile devices that do not meet the minimum system requirements?
No, only devices meeting the minimal criteria can use the app. You will experience problems with the device and the operating system in the absence of an unsupported device.
Is the family tracker app available offline?
Yes, even when they aren't online, Android and iOS devices can still be followed.
Conclusion
These are some of the top iOS and Android family tracking applications. While some of them need downloading to both devices, others operate via the web and don't even need an app. Others might only be available to operators, while some might only be available in certain places. Which family tracking app worked the best for you? Please let us know. These are all strong, feature-rich applications.
You can get help from Zenly, a top Team Tracker Development Company, to make a mobile app for your team. The group can work from your home or place of business (your family members). This smartphone app can support the success and expansion of your GPS tracking-related business concept.